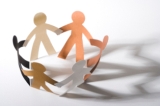 It's amazing how much emotional support one can get from strangers. As Bread for the City's resident nutrition consultant, I've recently begun a small, new program: a support group designed specifically for Bread for the City clients who are struggling to lose weight.

I invited a few clients with whom I've been consulting about nutrition and healthier living. I do my part to guide them on the best choices for their bodies, and I help them devise plans that fit with their lifestyles, but I thought that a support group of peers might make the biggest impact in terms of turning their good intentions into action. Indeed, though none of them previously knew each other, within a short time, this group has been delving deep into personal issues including job loss, emotional avoidance, family matters, and sense of self-worth. And the participants say it's helping.

As a group, the patients are trying to get behind the "why" of their choices. Why is one person cooking healthy meals, only to binge on an entire box of cookies for dessert? Why does another participant feel unable to meet her goal of packing a small lunch to have on the go instead of stopping at a fast food place almost every day? Why is another patient not making herself a meal but instead grabbing snacks all day long? And why does another eat until the feeling that she couldn't possibly squeeze another bite into her body? They all are different questions, but there is so much similarity among the struggles people face with food.

One of our goals is to move beyond the refrain of "I know what I need to do, but I just can't seem to do it." Empathy abounds among the participants, as do good questions and creative solutions to the underlying reasons people are not taking care of themselves the way they want to. And there is power simply in hearing oneself share a story of difficulty. Patients are using journals to help themselves stay focused between our weekly meetings as they work out some of the more challenging stuff.

The results are apparent. Patients say that they are trying not to call themselves "bad" after not eating in a way that they're proud of. Self-blame and abuse certainly won't help people take better care of themselves. At the same time, a couple of participants reported pausing mid-meal to wonder, "Have I had enough? Am I hungry for more food, or am I hungry for something else? Am I just numbing myself, trying not to think about anything in particular?"

One patient told me that after one bowl of her favorite soup this past week, she paused and thought, "If I really love food, why am I rushing through it to get more and more? Why not savor it, truly enjoy the flavor as I was intended to?"

These are multi-layered, complex questions, and exploring their answers can support the participants in a multitude of ways. One woman, whose weight was stalled for years, just told me last week, "I lost a chin! I'm really taking care of myself." This is a new endeavor, and I'm excited about the potential. It can take a long time to gain significant amounts of weight , and it will certainly take a while to lose it. This new endeavor is a slow, learning process for the whole group, including me, and we're confronting our own obstacles as a group. One person had to drop out because she was fortunate enough to find a full-time job; and another has been sick the past couple of weeks. But change is happening despite the challenges, and I'm starting to feel optimistic. Supportive strangers might be just what the doctor (or, um, nutrition consultant) ordered.