In recent weeks, we've watched as DC's needle exchange programs were used, once again, as a bargaining chip in the national political arena. The federal budget bill passed by House Republicans included a rider that would have prohibited the District from funding its own needle exchange programs.
The needle exchange rider seems to have since been
pulled off the table
. (Though Congress did pass a rider prohibiting the use of federal funding for abortions.)
The episode has left us thinking back to the 90's, when

a Congressional ban on federal funding for needle exchange actually did prevent these programs from spreading through the District. For many years, Bread for the City's medical clinic was pretty much the only source of free, clean needles aside from the mobile distribution operation
PreventionWorks!
,
which just recently closed.
In a quote that we've cited before and almost surely will again, our deputy director Jeannine Sanford is more blunt: "We did it because we don't just stick our heads in the sand. Bread for the City does what's going to save lives. We do what works."
To get a sense of what this program looks like and why it's important, consider our story about Lisa. Lisa has suffered from various ailments -- including abscess in her stomach and Hepatitis C -- that are attributable to her drug abuse. The Hepatitis C, she believes, was received from a dirty needle.
But Lisa can't get clean needles at a pharmacy, because you needs to have a prescription or some other demonstrated proof of need. Without health insurance, this isn't a viable option for Lisa one way or another. And she is justifiably wary about being reported to the police.
Lisa used to rely on the PreventionWorks mobile needle exchange program -- and since receiving free, clean needles, she's remained infection-free. Now that PreventionWorks! has closed, however, Lisa would have few options for a reliable and regular supply of clean needles.
But Lisa can turn to Bread for the City. And she trusts us. We've been doing this for more than a decade, and she knows from word of mouth on the street that our services are safe, reliable, and respectful. She's developed a relationship with our lab technician, Kayleigh. And through that relationship, she became a primary patient at our medical clinic. Since then, her health has improved even more.
Our medical clinic director Dr. Randi explains: "When Bread for the City describes itself as a medical home, we imagine a place for all members of the community to have access to resources to keep themselves healthier and safer. Just as medical care is offered in conjunction with food and legal assistance and so on, it makes sense to offer needle exchange as part of the continuum of screening, diagnosing, education, and treatment that we provide with each visit."
Indeed, though the longtime federal obstruction of needle exchange in the District is far from the only reason our HIV/AIDS rate is the worst in the United States, it's certainly a factor. One in five cases of HIV/AIDS infection occurs as a result of intravenous drug use.
Research indicates
that
cities with needle exchange programs have seen an 11% decrease in infections-by-syringe when compared to cities without such programs
.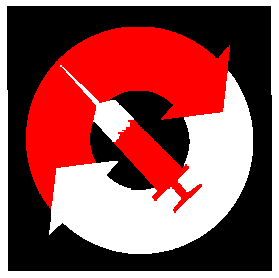 After some tentative progress forward, DC is currently falling backwards on this front. Bread for the City is now one of the District's only three providers of needle exchange services, along with Helping Individual Prostitutes Survive (or HIPS) and Family and Medical Counseling Services. And in the time since PreventionWorks closed at the end of February, our monthly amount of exchanged needles has
more than doubled
.
Though this matter may be "last week's news" as far as the media is concerned, the need is not going to go away. So even if needle exchange is off the table in this round of congressional budget debate, we believe it's important to continue to convey the value of this preventive program to the health of our city.
In the meantime, if you'd like to support our needle exchange program in this time of need,
please make a donation to the program at this page.
Bread for the City's needle exchange program is funded in part by the DC Government's Department of Health (HIV/AIDS, Hepatitis, STD, and TB Administration - or HAHSTA).